Pink is not a girls best friend July 2013 ipsy bag
I received my ipsy bag today. I'm not impressed. Okay that's not accurate...I got some pretty good stuff, in good size samples but they did an awful job color matching me this month. Let's look.
Let's open the bag.
Let's look inside
Healthy Sexy Hair Soy renewal beach spray. I wanted to use this right away but apparently I have to apply it to damp hair. And then what? I have stick straight hair. No amount of spray is going to give me that sexy little wave so I'm not sure what to do with this besides make my hair smell pretty.
Da Fuq? Pop Pouty Crayon in Fuchsia Flirt. Exactly what part of my preferences made it seem like I would wear this. Let's try it on shall we?
Oh sweet baby Jesus I look like a clown.
Maybe another angle?
Good god. That shit is bad. Why ipsy? Why would you send me hot pink lipstick? No no no bad!
Then I got this Nailtini nail polish in Mai Tai. It's a redder version of Giant's orange. I don't hate it. Shit. I'm supposed to swatch this stuff aren't I? Hang on be right back.
No, wait. That's not a good representation, let me try again.
I don't hate it. It's sort of SF Giants colored. It goes on pretty smooth. This is only one layer of the polish so it coats well. It also dried super duper fast. Not to mention it's smooth as shit. Seriously I've never felt such a silky smooth polish before.
Okay next up.
BH Cosmetics California collection. I don't even know what to do with this. Reason one...look at these colors.
First of all I don't know how to apply eye shadow to save my life. Even if I did I would have no idea what to do with these colors. I don't even want to attempt to swatch this because I would look like a clown. A really bruised clown.
Updated*
Someone told me to just try brushing the eye shadow on with my fingers. As you can see this worked great....yeah, no i failed and as predicted I looked bruised.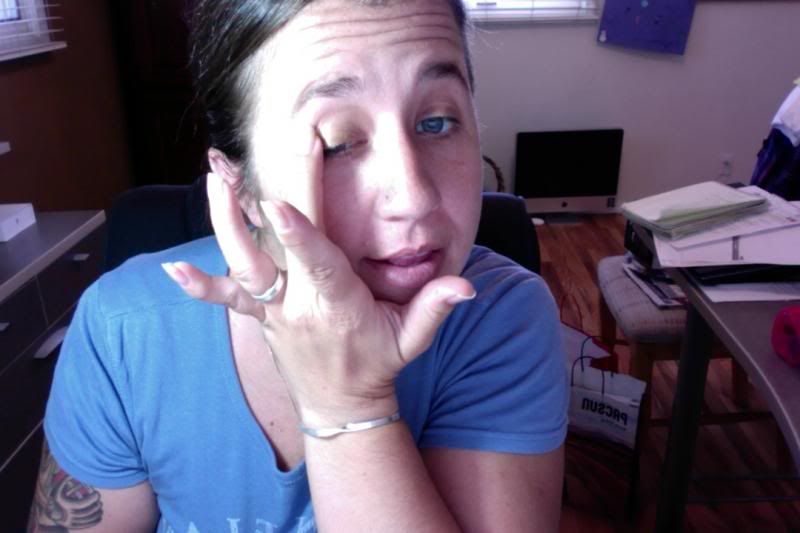 Can you see it?
I only did one eye. My lord I'm bad at this.
Finally I got some Coola tinted moisturizer stuff. I don't moisturize. I don't tint either. This will be passed off to a friend.
Although looking at these pics maybe I should use some moisturizer. And possibly some wrinkle cream. Does ipsy send Botox because wow, my forehead. Ouch!
The bag is mega cute though. I can't wait to cram something in it and put it in my purse. I really love getting the cute little bags every month. I adore cramming stuff in small bags just to put them in bigger bags.
I have mixed feelings about this month. I got some rad stuff, in good sizes but color wise..I'm afraid. I hope ipsy does better next month.
posted on Jul. 16, 2013
Comments
James Haub said…
Actually, the eye shadow isn't totally horrible and if you use your fingers to lightly dab at it--it will only give you subtle change to your skintone. I have very fair skin and was nervous it will make me look clown-ish but it was actually nice. Malibu across the lid then shade over with the SF from the outer corner to middle lid. Then use the Hollywood as a underliner* but only do a small outer corner under your lashline and dab the powder on your upper lid so it darkens the SF the slightiest and round you out. Finally apply your mascara on the top-lash. *I use a brown eyeliner so I stuck the stick into the HW palette and it turned it into a mild black-brown colour so it will match my black noir mascara.

LinaMingo said…
It's so nice to read a review that is exactly what most of us think but are too afraid to say. Love your sarcasm. I got the fuchsia too bleh!

coffee slut said…
Yeah, I wasn't impressed with the lipstick but I loved the hair spray ...it gave me great texture. I did not get nail polish ...I got roll on perfume oil "sea salt" that is to die for! The shadow ...I just used the dark one as an eyeliner. Can't wait for the next one!

Sarah Lynn said…
I didn't like this month's bag at all. Everything is so small. I got everything you did, except instead of nail polish... I got benetint blush... wtf... I'm pretty sure in my survey profile I said I liked nail polish, lol. I like the bag too though, it's super cute. The eyeshadow, I would only wear the gold one. I would have bruised eyes with the purple one too, and the beach hair can go to my cousin who has cute waves in her hair. Mine is stick straight, lol. The lip crayon I got was more mauve.