2.24.2014
I went to the gym during my lunch today which means I got home early tonight. I've already done the dishes and started dinner which means I have nothing left to do but sit here and blather on to all of you.
A few months ago I made a goal to buy smaller jeans the my husband. About a week ago I finally bought them. They fit. I was so fucking happy. However, after that I realized that my husband always buys his jeans at least two sizes too big, which means that my other goal of having a smaller waist then my husband was not acheived. His baggy jeans tricked me into thinking I had finally developed a smaller waist then him. This bothered me for hours and hours last week.
The weather is warming up and the sun is staying out longer which obviously means it's time to sit outside and water my rosemary with a nice glass of whiskey and lime. I will try not to drown myself in the hose while watering with a buzz. It should be noted that since December 1st I've probably only had five total drinks.
I've been bathing suit shopping. It's a little more fun this year. I ordered the cutest bikini from Victorias secret. I am still on the hunt for a one piece but I've been road blocked by the fact that my Reno stores haven't caught up to the fact that spring break is right around the corner and dammit women need at least a month to hem and haw over swimwear.
My bra size has gone down from a 38D to a 36D. This is exciting. Last time my cup size changed and I was not pleased. This time only my rib size changed but I got to keep my D. I am going to be devestated when I drop into the C cup area.
Little league starts soon and I am thrilled. We have our own team this year (Rob is managing Codi's team) and then Rob coaches Brandons team. I somehow managed to finagle making the team we manage be the Giants. I am obsenely excited about this shit. I am not excited about the four days of little league clinics I have coming up. I am excited for the unlimited access to nacho cheese again when the snack bar opens. Unresonable excited about that part.
I've added in a second trainer. He specializes in plyometrics. Dammit. I will be bikini ready by next summer.
Also, it should be noted that I jumped on the boxes at the gym this weekend. I've only been wanting to do that for three years but I've been too affraid. Now I'm a box jumping pro. I did three sets of ten, which might explain why my ass hurts so motherfucking bad today.
That's all for now. I have to go make sure I didn't burn dinner while I was drinking, watering and typing.
PS, My spell check button doesn't work. I am sorry in advance for all of the errors. But not too too sorry.
Laters!
---
2.12.2014
I have been going 5-6 days a week and doing some pretty intense work outs. This weekend I was soo sooooo sore and realized that going in and doing my normal routine of weights, stair master and running would only end up injuring me. Instead I went and swamp laps until I couldn't breathe anymore. It was nice and relaxing. Last night I was feeling tired so I thought I would end my arm and cardio workout with a swim. By the time I made it to the pool they were gearing up for an aqua aerobics class.
Let me just stop here. I think aqua aerobics is about the most full of shit thing ever. Unless you are eighty years old go into the gym and do a real workout. One whole side of the pool was full of overweight people standing around talking while the few of us who actually wanted to workout were smooshed into one lane. I was annoyed if you aren't working out stand OUTSIDE the pool and wait. Don't take up space talking. I don't feel this way only about the pool, I feel like this about the gym in general. Do not sit on a bike for 40 minutes chatting with a friend while all of the other bikes are full. Please do not sit on the leg press machine and text for 20 minutes while never doing a single fucking leg press. Do not come to the gym with a friend to stand around and look pretty. Chances are you are getting in my way, and every other persons way who is there to actually work out.
Back to the pool.
I did my laps right up until they removed the lane and started the class. Then the instructor came in. I was confused. The instructor was a big woman. A very big woman. I don't understand. Why on earth would you take a class from someone who is not only standing outside of the pool and not participating, but who isn't in any kind of physical shape herself? I was baffled. I watched this shenanigan take place for a few minutes before leaving. When I was done I was sitting at one of the tables drinking my protein shake and I watched a step aerobics class being taught. The guy teaching the class had a bigger gut then me. Again, I would never take a class from someone like that and expect to end up looking fantastic in the end. If he teaches that class at least four times a week and doesn't look svelte how can I expect to take the class and walk out looking good?
The trainer I pay to teach me about health and fitness is in tip top shape. His body is a fucking temple. 90% of the trainers at my gym have bodies in peak physical shape. I see them eat, they eat well, they look good. I realize that a class is a free add on to your gym membership and trainers cost a lot more money but the results I've seen since working out with my trainer are worth every single cent I've spent.
I am shocked that people do this. That they take these classes taught by people who clearly have no realm of fitness and then expect their lives to change. Working out, real working out was a huge shock to my system. There is a big difference between playing around on the elliptical and spending 5-6 days a week working out every single muscle in your body and doing 5 additional forms of cardio. Perhaps these people aren't serious about their fitness yet. Perhaps they really believe screwing around in the pool for 20 minutes three times a week is going to change their lives. I don't know.
What I do know is that this family:
Has made some serious changes in their lives
If you are ready to change your life and get in healthy and in shape I encourage you to seek out a professional at the gym. Find someone who will hold you accountable. Someone who will encourage you to EAT calories. Someone who will teach you the right calories to eat. Someone who will teach you how to work every muscle in your body and what order to work them in. Someone who will push you when you feel like quitting and cheer you on when you move past a goal. I know it's expensive but I'm telling you, it was the best money I've ever spent. Spending money on a gym is worthless if you are going to waste it standing around talking or not working out to your full potential.
Good luck!
---
1.26.2014
Probably since they have existed I have publicly shared my hatred for the Beats By Dre headphones. They are so big and bulky and look ridiculous. Lately I've seen people wear them in the gym and it drives me insane. You look stupid. So stupid. Why would you wear those to the gym? I've clowned on my trainer for wearing them, I've made fun of people on Facebook and Instagram for wearing them, I'm a total jerk about these headphones. These headphones rank up almost as high, if not equal to Crocs.
About three weeks ago I went into Best Buy with my husband and while he was off doing who knows what I saw the headphones. Deciding to prove they were as stupid as I thought, I slipped them on. It sounded so good. I was immediately annoyed. They weren't allowed to sound good. I threw them back where they came from and left.
I continued to make fun of every single person who wore those stupid bulky ridiculous headphones.
Then today while waiting for Apple to put a new battery in my iPhone I saw a pair of Beats in Teal. I mused that they were cute, if you liked that stupid, bulky, show offy type of look. Then I moseyed down to the area you could test the headphones. I slipped them on and was shocked to find one of my favorite bands, "The Wild Feathers" on the stores iPod. I turned it up and my god it was like angels started singing in my ears. It was the clearest most beautiful goddamn sound I had ever heard. In fact it sounded so good I forgot to hate them and turned up the music louder and leaned over the table and just rocked out. After a few moments I took them off to put my hair in a pony tail and see how they would fit if my hair was up like at the gym. The second I removed them noise was everywhere. People chattering, and music, and phones beeping, just NOISE. I was shocked. The headphones did such a good job of cancelling out noise that I actually forgot where I was. For about a minute and a half I was alone with my song and not even aware of my surroundings.
I slipped them back on and the blissful joy returned to my ears. This shit is incredible. These headphones are amazing. AMAZING. I cannot even believe it. They are the greatest thing to ever happen to my ears. For someone who can hear every single little noise, someone who gets frustrated at the gym when I'm on the treadmill and I can hear the person next to me running through my headphones, or when I'm working out and the person next to me drops their weights. I hate it. I don't want to hear your feet slapping on the treadmill, I don't want to hear your conversation about work, or your date or whatever you are talking to the person next to you about, I don't want to hear grunts and groans and I do not want to hear weights clanging around. I just want silence.
I took a picture of the beautiful teal colored Solo Beats By Dre and I left the store. I want them. I want them so bad I am willing to publicly admit I was an asshole who was so wrong in my wrongness. I don't care if I look totally lame (I do) wearing them at the gym, and I don't even care if I look like all of the people I have talked shit about the last year the magical angels singing into my ears make it sooooo worth admitting I was a jerk of living in bratty wrongville.
I'm going to save up my money for them. Once you hear how good music can sound you cannot go back. I'm going to be cranky and annoyed at the gym every single day until I save up for these stupid headphones. I need these headphones. I MUST HAVE THEM.
I'm sorry world. I was wrong. You still look ridiculous in your headphones, and when I get mine you can tell me how stupid I look in mine, but that's okay because I won't be able to hear you with my magic fairy kiss headphones on.
---
1.20.2014
When I woke up the morning after surgery and saw that I was seven pounds heavier I almost fell apart. I actually started crying. You see, the day before surgery I weighed 164 pounds. My current goal is 160 pounds. I'm taking it in five pound goals lately. The day I checked into the hospital I weighed 162 but that was because I had to fast and drink a gallon of laxative before the surgery. The following morning after spending just about five hours in the hospital I woke up weighing 169. The logical part of me should have only considered this a five pound gain since rationally I had only weighed 162 from the fasting and the laxative but the irrational part of me considered this a seven pound gain. I had been stuck in the 170's for months. Close to three months. It was bad. It wasn't that I hit a plateau, because I was still losing body fat and inches, it was just that the muscle and the fat were counter balancing each other. Getting out of the 170's had been my goal for three months. THREE. All I wanted was to step on the scale and see a ONE and a SIX as the first numbers for once. When I finally hit 169 I was so thrilled. It was like the kick start I needed and before I knew it I was 164. I worked hard for that. Six day a week trips to the gym, meal tracking, saying no to sweets. It took a lot.
I went to the store at 168 and saw they had the Cadbury mini eggs for sale. If you've read this blog for any amount of time you would know that I love those eggs. Those eggs are my kryptonite. Those eggs are probably the best food ever created ever in the whole world. The mini bags were on sale buy two get one free. I bought twelve. On every other diet I've always just said fuck it and eaten the eggs. This time I brought them home and put them in the freezer. I went round and round with goals. Should I eat them if I get to 165? No. I decided if I got myself to 160 I would be allowed to have one mini bag of eggs. I trudged on from 168 to 167 and then 165 and finally 164. I was so close I could taste it. Then the surgery happened and I woke up feeling so lost.
The doctor couldn't exactly explain were the seven pounds came from and I didn't like that. Combined with the fact that I can't go to the gym for a while i was feeling really sorry for myself. I'll be honest there has been a lot of tears in my house since the surgery. I am swollen, so swollen and my weight was so close to having a ONE SEVEN in front of it that I panicked. I immediately went back to protein shakes and watching my calories. But by day two I wanted some pizza. I'll admit it, I needed some pizza. So I ate two slices of pizza. Then I woke up and I had only lost one pound. I panicked again. I struggled with being very strict on my calories, or doing what my trainer said and eating a lot of calories to help my body recover. In the end I followed his advice and I just ate normally. I had some pizza, I had some fat free pudding, I had one cookie. This morning I woke up and I weighed 165. I am relieved. I also realized this morning that aiming to weigh 162 again isn't a good plan since I only got there with a gallon of laxative. Tomorrow I go back to work and I'm going to go back to my scheduled eating and meal planning. I'm still very swollen which is irritating but at least the weight didn't stay on.
I cannot wait to get back to the gym. I never thought I would miss it, but I miss the gym so bad it's not even funny. I'm dying to do some calf raises, and biceps, and God I would kill to do the stairmaster. My trainer is riding my ass about taking my time and I'm trying to. I am hoping that as long as I keep my weight in check I will not have a full melt down about missing so much gym time.
This has all been very hard for me. Learning a new way of life, a healthy way of life and making it a habit was hard enough. Having surgery in the middle of that and having to stray from this new way of life was even harder. I'm hoping that I seamlessly fall back into my schedule of eating and my six day a week work outs and that eventually it will be like nothing ever happened and I'm back to normal.
Wish me luck!
---
1.19.2014
Thursday afternoon after fasting for over 24 hours and being a starving deranged mess I finally went in for surgery to look at my insides. I awoke to pictures of my guts that made no sense to me. Here is what I learned:
After my hysterectomy my insides were possibly not put back exactly right, which means my colon was put away near my cervix. Scar tissue grew from my cervix to my colon and then attached those to my remaining ovary. All of that attached to something else (I don't know what) and the result was a crushed colon and ovary and a relocated cervix. They also found that my colon had attached itself to something that pulled it into my appendix and smooshed my appendix up against the wall of my insides. Thus my appendix was "very irritated and angry."
I was not crazy.
They removed a ton of scar tissue from my colon and surrounding areas. My ovary was able to be saved (yay!), my colon was able to be put back where it belonged, uncrushed and with room to function, my cervix was detached from other body parts and was put back where it belonged, my appendix was removed, and I should be good as new. The doctor described it as a "necessary tune up."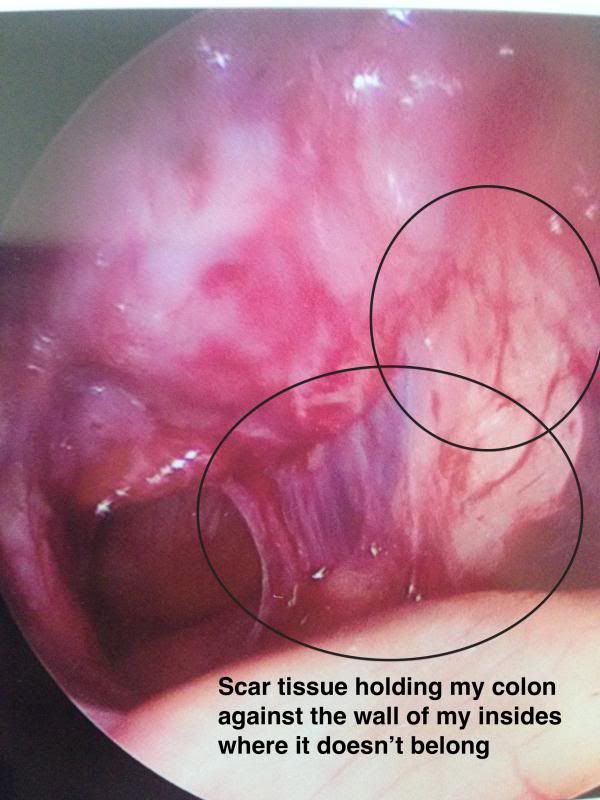 That clear part is more recent scar tissue. The white part on the right side is old scar tissue that was holding my colon up against something that it didn't belong against. My doctor said the way my colon was smashed was causing me to not be able to digest food, causing it to sit inside of me for days and thus causing the swelling and bloating. He also said had he not gone in when he did my appendix would have ruptured from the pressure of my colon being pressed against it.
I awoke to find three incisions instead of two. One of them is right in the center of my tattoo. My doctor did not do that one, the other doctor did. My doctor has always cut around my tattoos. I am pretty sad, I hope it heels okay.
My biggest frustration is that I woke up the morning of the surgery weight 162. I was so close to my second goal weight of 160 pounds. I was in the hospital for maybe a total of six hours and I left there weighing 169 pounds.
WHAT THE FUCK!
So much what the fuck.
I went into the hospital with my stomach looking flat, the shelf above my C-section scar was starting to smooth out and flatten, I was starting to get kind of skinny. I was beginning to like myself. Look at it, my stomach was flattening out.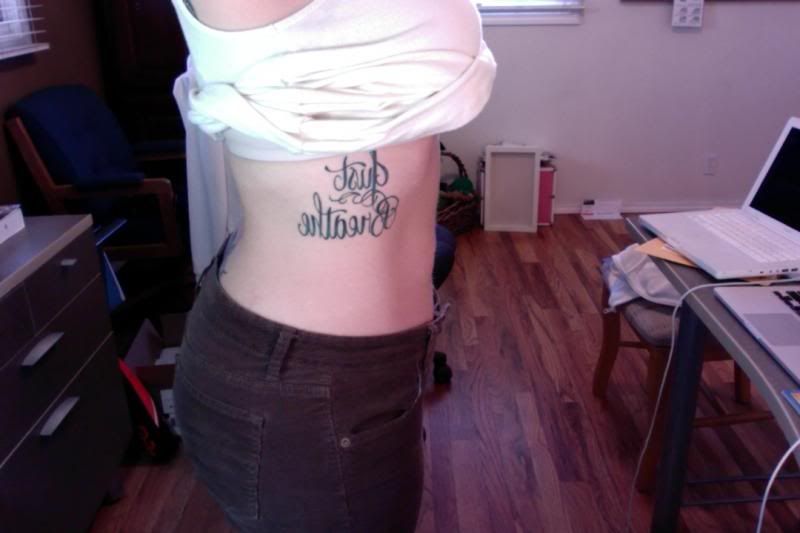 Now I look like this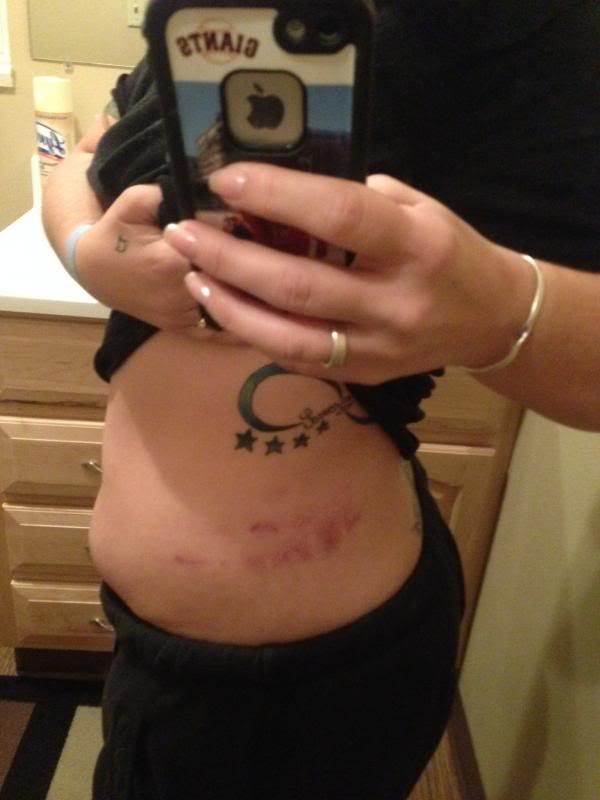 Lets close up on those bruises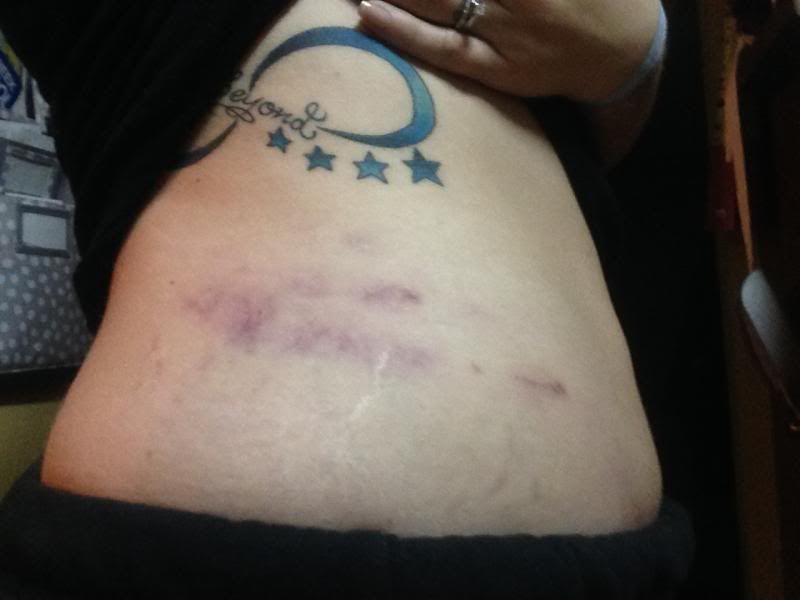 I need to mention here that my surgery was on my front. It was below my belly button. It had nothing to do with my side. Yet somehow my side is bruised. Badly. It hurts. My ribs hurt. My front hurts from the inside like I had surgery. My side however hurts like I got punched. I'm super annoyed. I hadn't seen this yet when the doctor called so I couldn't ask him what in the fuck happened to my side, but something happened.
The worst pain of all so far has come from the CO2 that they blew inside of my body. At random times the air will move up to my shoulder tip and try to escape. This is the most excruciatingly painful thing ever. I hate this part of the heeling because it just comes on out of nowhere, with zero warning and stays for about four minutes. I hate it.
Lets look at my front now.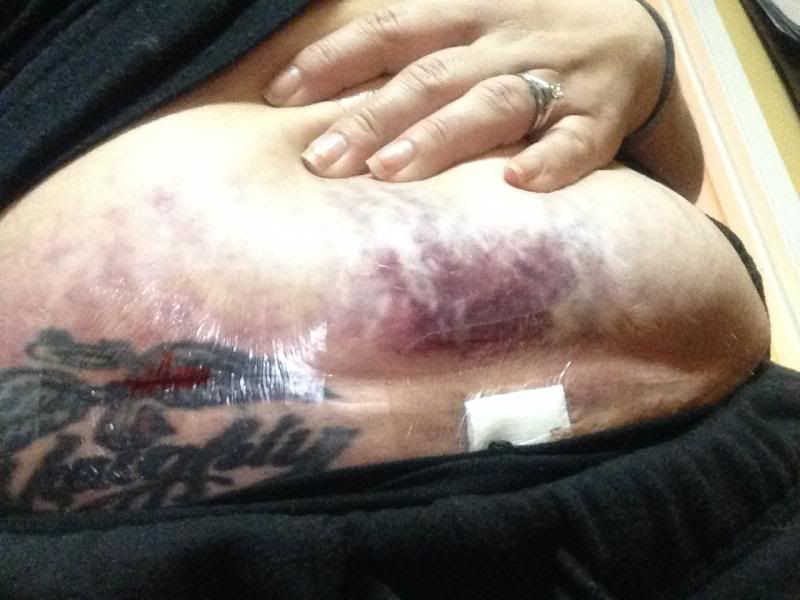 I am horrified. I'm swollen, and bruised, and so fat. So so fat. I feel like I took about thirty five steps backward from where I was when I left the gym on Wednesday. I've never come out of a laparoscopy (this is my 4th) with this kind of bruising. My doctor did ask me if I felt beat up when we talked, and when I said yes the only thing he would say is, "I'm sorry that was the other doctor not me." Again since I didn't know how bad the bruising was at that point I didn't ask more. Now though I want to know why my whole body is so bruised and fucked up.
Rationally I understand I just had surgery and I'm going to swell and maybe gain a little weight. Irrationally I can't help but think all of my hard work has been undone. I have to relose those seven pounds I struggled so hard to lose this month. I have to work so so hard to flatten my stomach out again. I can't even work out for 14 days. Fourteen days. I'm going to get so much fatter in fourteen days and lose my cute little arm muscles, and my legs are going to get fat again.
I've spent my recovery trying to do the right things. Drink my protein shake in the morning. Eat reasonable portioned lunches and dinners. I've only had ice cream one time and that was the day I came home after I had vomited up my entire stomach contents.
I am excited to see if I suddenly have a normal functioning body that digests its food the way it should. I'm counting down the days until I can get back into the gym. I'm ready to recover and get on with the show.
In the mean time my husband has been the bestest care taker ever. He's brought me food, and let me lay in the center of our bed with the sheets folded around me just perfectly, and all six pillows behind my head. He's let me text him pictures of bells when I needed him to bring me a pain pill or some gum. He's gone out to get me special lunch and basically been wonderful.
I've been staring at my awful pedicure for the last three days and I'm wondering if it would be pushing my luck to ask my husband to remove my toenail polish and give me a shiny new pedicure. Hmmmmm. He's at the grocery store now perhaps I will ask him when he returns.
---
Earlier Posts →